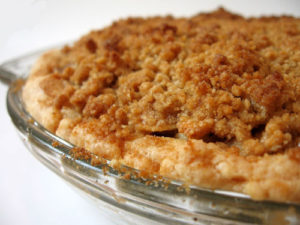 This is Paula Deen's recipe for Crunch Top Apple Pie.  There is plenty of apple flavor with the fruit and sauce together, and it's so moist because of the apple sauce.  The crunch top just makes it even better.
Dough and Filling:
Dough for a double crust 9-inch pie (homemade, frozen, or refrigerated)
3/4 cup sugar
1 tablespoon all-purpose flour
1 teaspoon ground cinnamon
Dash salt
3 1/2 cups peeled, chopped cooking apples
1 (16-ounce) jar applesauce
1 tablespoon lemon juice
2 tablespoons butter, chopped into small pieces
Crunch Topping:
3 tablespoons all-purpose flour
1 tablespoon sugar
Dash salt
1 tablespoon butter, at room temperature
Preheat oven to 425 degrees F.
Line a nine inch pie pan with half of dough. Combine sugar, flour, cinnamon, and salt in a bowl.  Stir in apples, applesauce, and lemon juice.  Spoon apple mixture into pie pan and dot with butter.  Cut remaining crust into strips; arrange in a lattice design over top of pie (see notes).  For crunch topping, combine flour, sugar, and salt in a bowl.  Using a fork, cut in butter until mixture is crumbly.  Sprinkle over top of crust.  Bake for 10 minutes, then reduce heat to 350F and continue to bake for about 45 minutes, or until crust and topping are golden brown.
The pie will run badly if cut while it's hot, but it still super-delicious if you can possibly wait to eat it when warm or even cold.
NOTE: A lattice top is easy even for beginners.  Lay out half your strips, running in one direction only across the top of the pie, spacing them about one strip-width apart from one another.  Fold every other strip back across itself, and place a strip perpendicular to the first round of strips.  Return the strips to their original position.  Fold every other-other strip (the ones you did not fold back last time) back across itself, and place a second strip perpendicular to the first round of strips.  Repeat until the pie has been covered.  Continue with topping.