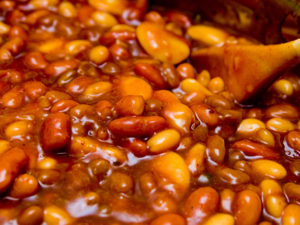 The inspiration for my Baked Beans was published in the News & Observer in the summer of 2005. I've heavily adapted it for the tastes of my family, who love it. I actually won a cook-off at my workplace, squeaking past my boss's chili and Mary's Blueberry Awesomeness.
3 cups ketchup
1 1/2 cups packed brown sugar
1/2 cup molasses
1 cup diced onion
1 1/2 tbsp "Dust" – recipe follows
1 cup cooked drained bacon, crumbled (12-16 ounce package)
2 cloves garlic, minced
1 can red kidney beans (19-ounce)
1 can chili beans (15-ounce)
1 can canellini beans (15-ounce)
1 can black beans (15-ounce)
1 can Pork and Beans (28-ounce) – do not rinse
Preheat oven to 350 degrees.
In a large bowl, combine ketchup, sugar, molasses, onion, garlic, bacon, and "Dust". Mix the Dust with 1/2 cup of the ketchup to avoid spice clumping.
Drain and rinse kidney beans, chili beans, white beans, and black beans. Do NOT drain Pork and Beans
Add drained beans to the ketchup mixture, mixing gently so as not to burst the beans and make them mushy.
Pour the beans into a 13 x 9 baking dish, cover with foil, and bake for 45 minutes.
Remove the foil and cook for 15 minutes or until bubbly.
The beans reheat well and will keep in the refrigerator for about a week. I've never had any around for that long.
---
Dust (Rib Seasoning Rub)
Mix all the ingredients together and store in an airtight container. Keeps indefinitely. Makes about 2 1/2 cups. At 1 1/2 tablespoons Dust per batch of beans, the original recipe makes 26 and 2/3 batches. I make a quarter-recipe of the "Dust". I have noted the reduced amounts in [ ]. They're good beans, but that's a LOT of beans. I omit garlic from the "Dust" and add fresh minced garlic to each batch.
1/2 cup [2 tbsp] paprika
1/4 cup [1 tbsp] salt
1/4 cup [1 tbsp] sugar
1/4 cup [1 tbsp] chili powder
1/4 cup [1 tbsp] cumin
2 tbsp [1 1/2 tsp] ground black pepper
1/4 cup [1 tbsp] granulated garlic (not garlic powder)
2 tbsp [1 1/2 tsp] cayenne pepper