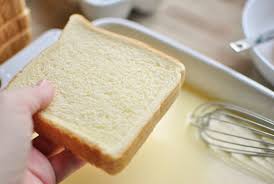 This recipe is from a Southern Living Party Cookbook, published in 1972. It's from a brunch menu that includes a sausage dish, a dressing, and a pastry. I've never made any of the other dishes, but have made this the last several years for Christmas breakfast. It's easy to assemble the night before, then pop into the oven while you open your stockings. Bojangles is not open on Christmas day. This is ready to eat before it's time to open presents and comes out puffy like a souffle. You can add sausage, peppers, whatever you like. The recipe calls for "sandwiching" the cheese and any fillings between two six-slice layers of regular thin bread. I found it does not "meld" together properly, and gets all slidey when you're eating it. If you want to follow their recipe, buy their book. Here's what I make for my family.
6-8 slices Texas Toast-style bread
8 oz Cheddar cheese, sliced or grated
4 eggs
2 1/2 cup milk
1/2 – 1 cup chopped onion
1/2 – 1 cup cooked crumbled bacon
salt and pepper to taste
Arrange bread in a 9 x 13 pan. Sprinkle cheese, onion and bacon over bread. In a bowl, beat eggs, then add milk and stir well. Pour milk/egg mix over bread/cheese. Cover with plastic wrap and maybe put a smaller pan over that to squish the milk and eggs into the bread. If the bread is not totally soaked with egg and milk it will get dry and terrible when baked. Refrigerate overnight. Bake at 325 F for an hour or so. Makes about eight servings, if you eat it with toast.