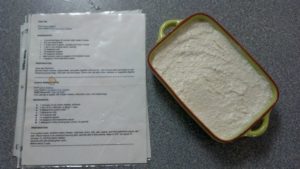 This cream cheese crab dip is great served with corn chips or crackers.  My friend Cindy loves it and makes it for me now.
1 package (8 oz.) cream cheese, softened
1 can (6 oz.) crabmeat, or about 1 cup
2 tablespoons grated onion
1 tablespoon milk
1/2 teaspoon salt
1/4 teaspoon pepper
1/4 teaspoon Worcestershire sauce
1 tablespoon finely sliced green onions, for garnish
Preheat oven to 375F In a medium bowl, combine cream cheese, crabmeat, onion, milk, salt, pepper and Worcestershire sauce. Stir well. Place mixture in an ovenproof serving dish; sprinkle with a little paprika. Bake for about 15 minutes (longer if made ahead and refrigerated), or until thoroughly heated. Sprinkle with sliced green onion to serve. Makes about 2 cups.