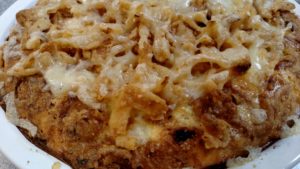 This is a great take along dish for spring events: brunch, Easter, baby or bridal shower.  I made a broccoli and cheddar version this weekend, and it was terrific.  Serve hot, warm, room temp, or chilled.
Prep time – 10 minutes
Cook time – 35 minutes
Servings – 6 to 8
1/2 pound fresh asparagus, trimmed and cut into 1/2-inch pieces
1 1/2 cups (6 ounces) shredded Swiss cheese, divided use
1 1/3 cups French's French Fried Onions, divided use
6 eggs
1 tablespoon flour
1/2 cup milk
1/8 tsp pepper
1/2 cup (2 ounces) grated Parmesan cheese
1/4 teaspoon garlic powder
Preheat oven to 350 degrees; Grease 9 inch deep dish pie plate.
Arrange asparagus, one cup Swiss cheese, and 2/3 cup French Fried Onions in plate.
Beat eggs, Parmesan cheese, 1 tablespoon flour, garlic powder, and 1/8 tsp pepper in medium bowl. Pour into prepared pie plate.
Bake 30 minutes or just until center is set.  Sprinkle with remaining 1/2 cup Swiss cheese and 2/3 cup onions.  Bake five minutes more or until onions are golden.  Cut into wedges to serve.
TIP – you may substitute one 10-ounce package thawed frozen asparagus spears, cut into 1/2 inch pieces.
I arrange the spear tips in a pattern on the bottom of the plate, all facing the center, then arrange the rest of the pieces in the plate.  Pour the egg mixture carefully over, so as not to disturb the pattern, which looks great if you invert the dish for presentation.
Pattern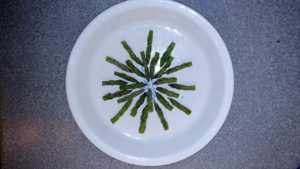 Before final cheese and onions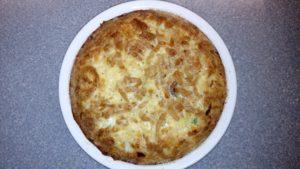 Finished dish