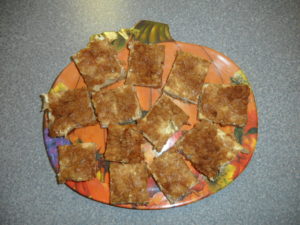 This recipe is from New Iberia, Louisiana, home of Tabasco brand hot sauce. This is a great fall dessert when apples are plentiful. Easy to make and take.  My friend Diane is not a sweet lover, but really likes this for a birthday treat!
1 box yellow cake mix
1/2 cup soft butter – 8 tbsp – one stick
1/4 cup brown sugar
1/2 tsp cinnamon
2 large or 3 medium apples, sliced and peeled (I like Granny Smith for this recipe)
1 cup sour cream
1 egg
Preheat oven to 350F. Mix cake mix and butter until crumbly. Reserve 2/3 cup for topping – add brown sugar and cinnamon to topping; set aside. Press remaining cake mix-butter mixture into bottom of ungreased 13 x 9 pan. Arrange apples over mixture. Blend sour cream and eggs; pour evenly over apples. Sprinkle topping mixture over all. Bake for 25-30 min or until brown and bubbly.