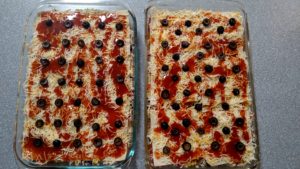 I've been making chicken enchiladas for years, but my husband invented the Enchilagna when he was pressed into service to assemble the dish.  Instead of heating the sauce, softening the tortillas, and carefully rolling the filling inside each one, just layer all the ingredients like lasagna. Brilliant!
This is definitely a crowd-pleasing dish.  I usually make two at once, and keep one in the freezer for emergency guests.
2 large cans chicken, drained
1 can black beans, drained
1 can diced tomatoes, drained
1 can corn, drained
2-3 cups grated cheese
1/2 to 1 cup diced onion (white or yellow)
18 small corn tortillas
2 large cans enchilada sauce
corn chips, for serving
sour cream, for serving
black olives, chopped, for garnish
Trim the edges off the tortillas until they're more square, in three stacks of six; set aside.
Shred the chicken with a fork in a large bowl.
Add the beans, tomatoes, corn, and onion to the shredded chicken; stir together.
Pour a little of the enchilada sauce in the bottom of a 13 x 9 pan, swirl to coat.
Layer six tortillas in the pan.
Spoon half the chicken mixture over tortillas.
Cover with one-third of the cheese, then spoon sauce over.
Cover with second layer of tortillas, second half of chicken mixture, another third of the theese, and more sauce.
Cover with last six tortillas, final cheese, more sauce.
Garnish with chopped olives, if desired.
Cover with foil and bake at 325 until almost heated through, then remove foil and bake until bubbly.
OR  –  cover with plastic wrap and foil, and freeze until ready to use.
If you've garnished the dish with olives, and won't be baking it right away, take care to cover the pan with plastic wrap, then foil; else the olives will eat tiny holes right through the foil.
Serve with sour cream.
Add Spanish rice and a green salad, and you've got dinner for guests.
We don't even use forks to eat this – we just scoop it up with corn chips.