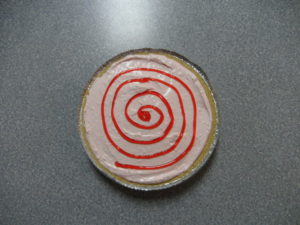 An easy, breezy summer treat.  Makes two pies!
I've tried different flavors, but pink lemonade is the best.  I add a couple drops of red food coloring to boost the pink color.
8 oz. cream cheese (works with low-fat or fat-free too)
5 oz. can fat free evaporated milk
1/4 cup powdered sugar
1/2 cup frozen lemonade concentrate
16 oz. tub of cool whip
2 graham cracker pie crusts (store bought or homemade)
Mix softened cream cheese, powdered sugar, milk, lemonade, and food coloring, if using.
Fold in the cool whip.
Spoon the filling into the crusts and smooth  with a spatula.
Let set for two to three hours in the refrigerator before serving; may freeze for the last hour for easier cutting.