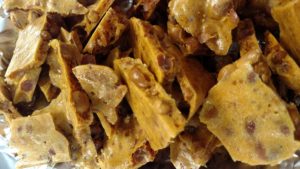 This is easily my most asked-for recipe and folks don't hesitate to ask me "when is our next candy day?"  Virtually no prep time, ten minutes cooking, then cool and eat.  Fabulous!
A couple of years ago at Christmastime, I flipped the finished, cooled candy over, and applied melted chocolate to the bottom before breaking it into pieces.
1 cup granulated sugar
1/2 cup light corn syrup
1 1/2 cups raw Spanish peanuts (skin on)
1/8 teaspoon salt
1 teaspoon vanilla
1 teaspoon butter
1 teaspoon baking SODA
Mix the sugar, corn syrup, peanuts and salt in a microwave-safe dish and stir well.  Microwave for four minutes, stir, and cook another four minutes.
Add butter and vanilla, stir well, and microwave again for two minutes.
Remove from microwave and add the baking soda.  Stir well until mixture becomes foamy and light in color.
Immediately pour onto greased foil.  Use a heatproof (silicone, wood, or metal) spatula to quickly spread the mixture thinly and evenly – about a 1/4 inch thick.
Take care at all times when handling this mixture – boiling sugar is VERY hot !
Let sit until completely cooled,  Break into pieces and store in an airtight container.  Yields about a pound of candy.
The trick to making thin, tender peanut brittle is to keep the baking sheet you use warm.  I set my oven to 150-200F and put the baking sheet covered with buttered foil into the oven before I start the microwave.  The hot sheet allows you the extra crucial seconds to spread the finished candy before it cools too much to spread.