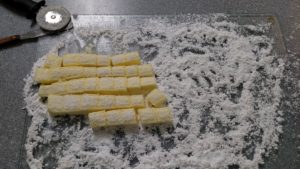 What is better to dip into a chocolate fountain than a homemade New Years Marshmallow?  Nothing.  I made marshmallows for the first time in 2009, and tried two recipes, one from Alton Brown (my food god), and Springy, Fluffy Marshmallows from Smitten Kitchen  [[http://smittenkitchen.com/2009/06/springy-fluffy-marshmallows]]
Sorry, Alton, baby, I'm springy and fluffy from now on.  Well, just my marshmallows.
Just a couple notes from me  –  I made three batches today for my New Years gig.
I had pan size issues.  Recipe calls for 13 x 9 pan (117 sq in).  I have one 12 x 8 pan (96 sq in) – too small, and four 10.5 x 6.6 (68 sq in), so I used two of the smaller pans.  I will just cut the squares larger.  I remember last year I used the 12 x 8 pan and the 'mallows were pretty tall.  I had to cut them smaller because of it, and marshmallows are not too easy to cut, so this time I went with shorter/fewer cuts/larger pieces.
I made lemon marshmallows last year, and they were terrific!  They looked like giant pats of butter and were super soft and lemony.
This year I made pineapple marshmallows, using 2 tbsp of Happy Home flavoring. The flavor is not very strong.
I also made lemon marshmallows, using 1 tbsp McCormick flavoring. They're REALLY lemony.
Third batch was split: plain (vanilla), and clove. Plain was plain. The other didn't taste too clovey when I licked the spatula. We'll see when they're cut and dusted.
When making flavored marshmallows, especially more than one flavor, it's nice to add color together with the flavor for identification.  I forgot to color the pineapple marshmallows, so will use colored sugar (green, perhaps?) when I cut and dust them, as I did remember to color the lemon ones, and they're yellow.
The sugar mixture reached 240 way before 12 minutes.
My stand mixer took about five minutes  to reach white, thick, and nearly tripled in volume.
Take care to really go around the pan to release the marshmallows, then carefully pull the whole mallow-block out of the pan and onto your well-powdered board.  Cut and dust as directed.  I store them in gallon bags with plenty of extra powdered sugar.