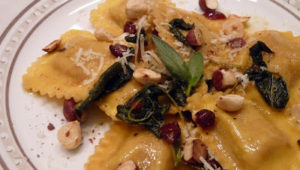 I made these in Fall 2009 as part of a Fall Feast for friends.
Serves four
1 package wonton wrappers (in the grocery store refrigerated section)
12 ounces canned pure pumpkin puree
4 ounces Mascarpone cheese
2 teaspoons cinnamon
3/4 teaspoon nutmeg
1/4 teaspoon ground cloves
1/4 teaspoon cardamom (optional)
3 tablespoons maple syrup
1 egg, beaten
1 stick unsalted butter
3 tablespoons fresh sage, minced
1/2 cup hazelnuts, peeled, toasted, and coarsely chopped
salt and pepper to taste
grated or shredded parmesan or pecorino romano cheese, for garnish
In a medium mixing bowl, make the filling by combining pumpkin puree, Mascarpone, cinnamon, nutmeg, cloves, and maple syrup.  Season with salt and pepper.
Lay wonton wrappers on a clean work surface.  Place about a teaspoon of filling in the center of each.  Brush the sides of the pasta with egg and seal, folding in half to make a triangle.  Repeat until all pasta has been used.
Bring a large pot of salted water to a boil.  Drop ravioli in and cook until they float to the surface, about three minutes.  Drain.
In a skillet over low heat, melt butter until light brown.  Quickly add sage and hazelnuts, swirling pan to distribute butter evenly.  The butter will continue to darken, so work quickly to avoid scorching it.  Remove from heat and season with salt and pepper.
Place Ravioli on a plate and drizzle with sage butter sauce.  Garnish with fresh parmesan or pecorino romano cheese.
From the Fall 2009 issue of Fifteen 501 magazine.