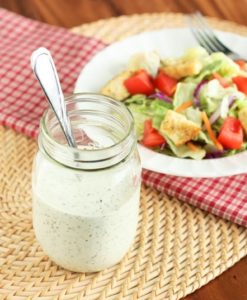 This dressing is thinner than a ranch, and kind of tangy.  It's my REALLY fake Olive Garden
Italian dressing.  I usually make a double or triple batch so there's plenty.
1/2 cup mayonnaise
1/3 cup white vinegar
1 tsp vegetable oil (not olive oil)
2 tbsp corn syrup
2 tbsp parmesan cheese
2 tbsp Romano cheese
One garlic clove, minced or crushed with one of those garlic crusher things, but not just with the flat of your knife
1/2 tsp Mrs Dash (original recipe called for Italian Seasoning, but I don't like that)
1/2 tsp dried parsley flakes
1 tbsp lemon juice
Mix well, and store in any jar or old dressing container.  I mix mine in an ordinary mixing  bowl, then transfer to a large salad dressing bottle using a funnel.  Add the dry seasonings to the mayonnaise and a little of the vinegar so they don't clump together.  Shake well before each use.  Feel free to use other hard cheeses like Asiago, or two doses of only one kind of cheese.