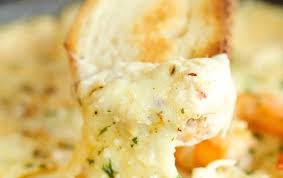 This recipe was called Shrimp Scampi Cheesecake Appetizer, but my sister made it for last New Year's "Winter Wander" and it's nothing like the 'original' name suggests.  It's shrimpy, eggy, cheesy, and chock-full of goodness.
We eat it mounded on those great big Costco seeded crackers in the green box, but any buttery cracker, or little toasts would be great.
1 1/2 teaspoon olive oil
1/2 onion, diced
1 tablespoon minced garlic
14 oz. shrimp (100-150 per pound is a good size)
2 tablespoons butter
12 oz cream cheese, softened (1 1/2 of the larger bricks)
2 eggs
1/4 cup heavy cream
8 oz. smoked Gouda, grated
1 teaspoon salt
Preheat the oven to 350 F.
On medium-low, sauté onion and garlic, then add shrimp and butter
Beat cream cheese until creamy, add eggs one at a time until well mixed.  Add cream, cheese, salt, and onion/shrimp mixture.
Bake in a 9 x 9 pan for 35 minutes.
We served it with champagne to kick off our annual progressive dinner party (a house-to-house snack-off with no dinner at all).