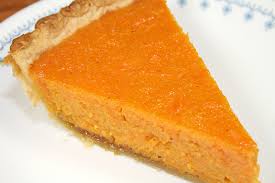 I make several pies each year at Thanksgiving time for family and friends.  Much better than pumpkin . .
I think the pies look better when using the darker sweet potatoes, but taste just as great using the golden variety.  I use aluminum pie shields so the crust edges do not burn.
2 large or 3 medium sweet potatoes (about two cups for two pies)
1/2 cup (one stick) butter, softened
1 cup granulated sugar
2 tablespoons packed brown sugar
2/3 cup or 5 oz. can evaporated milk
2 large eggs, beaten
1 teaspoon vanilla
1 teaspoon lemon juice
1/8 teaspoon salt
1 teaspoon cinnamon
1/4 teaspoon nutmeg
2 unbaked 9-inch (two-cup volume) pie shells
Cook sweet potatoes in boiling water for 45-50 minutes or until tender.  Drain, cool slightly, and peel.  May set aside in the refrigerator and assemble and bake your pies in the next couple of days.
Preheat oven to 425 F.
Mash sweet potatoes and butter in a large bowl.  Stir in granulated sugar, brown sugar, milk, eggs, vanilla, lemon juice, salt, cinnamon, and nutmeg.
Pour into pie shells.
Bake for 15 minutes.  Reduce heat to 350% and bake for another 30-40 minutes or until knife inserted near center comes out clean.  Cool on wire rack for two hours.  Serve immediately or refrigerate.
The recipe says it makes 16 servings.  Ha!   Technically, it makes two pies, so if you like really small slices, they are correct.  Dottie and I like to cut these pies into quarters.