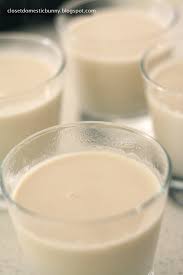 This is Sandra Lee's recipe.  I made this one year at Christmas, and now it's one of our holiday staples.  This recipe makes six servings, but is easily doubled without adjustment.
1 cup almond milk, divided
1 (1/4 oz) package unflavored gelatin
1 1/2 cups heavy cream
1/2 cup sugar
1/2 teaspoon + 1/4 teaspoon almond extract
1 teaspoon vanilla extract
1/4 cup chocolate fudge syrup, for garnish
Pour 1/3 cup almond milk into a small bowl and stir in gelatin with a fork, set aside.
In a medium saucepan, stir together heavy, cream, remaining almond milk, and sugar.  Bring to a boil over medium heat, watching carefully as the cream will quickly rise to the top of the pan.
Pour gelatin and almond milk into cream mixture and stir until gelatin is completely dissolved.  Add 1/2 teaspoon almond extract and the vanilla extract and cook for one minute, stirring constantly.  Remove from heat and pour into six (four-ounce) dishes.  [I use standard custard cups; see photo]
Leave dishes uncovered at room temperature to cool.  When cool, cover with plastic wrap (so a skin does not form) and refrigerate at least four hours, or overnight.
To remove, run a knife around the sides of each dish and invert over a serving plate.
In a small bowl, combine 1/4 cup chocolate fudge syrup with 1/4 teaspoon almond extract.  Drizzle over the top of the panna cottas to decorate top, as desired.
TIP:  If panna cottas do not drop freely from their dishes, carefully dip the bottom of the dish in hot water.  Be careful not to get water IN the dish.
MY NOTES: This dish is a great opportunity for change-ups.
 Top with your favorite berries or whatever is in season.
Add a shot of amaretto and some chocolate syrup to your dish.
Serve with almond biscotti or sliced, toasted almonds.